Sponsors Bring Rich Content and Exciting Giveaways to the 2017 Ingeniux User Conference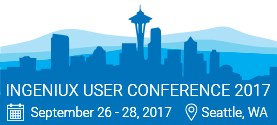 Press Release
|
9.18.2017
Seattle, WA | Ingeniux, a leading intelligent content management and web experience software company, will host the sixth annual Ingeniux User Conference on September 26th through September 28th at the Pan Pacific Hotel in Seattle, WA.
Sponsors of the conference are complementing the program – which includes two days of insightful presentations and workshops from experts in the industry – with sessions on content personalization and translation management.
Primacy, a full service creative marketing agency that focuses on bringing their clients "what's next," will sponsor and attend the conference. Matt Cyr, Vice President of Strategic Practices at Primacy, will present a breakout session in the Strategy Track at the conference. In his presentation, Matt will look at website personalization from two sides – the client side and the agency side – to shed light on the importance of clearly defined objectives, measurable goals, content structure, and other things to take into account when preparing your web content for personalization.
Venga Global, a web translation and localization company, provides services and technology that reduce the cost, time, and energy to produce multilingual content. Jose Palomares, Chief Technology Officer at Venga Global, will present alongside Adam Busbin, CMS Developer at Ingeniux. In their talk, they will explore key factors that make web translation projects go smoothly, demonstrate what a successful website translation strategy looks like, and give attendees an inside look at the extendibility and new features in the Ingeniux CMS Version 10 Worldview.
At the conference, Venga Global will also raffle off an Amazon Tap. Ingeniux User Conference attendees can take part in the raffle by filling out a short form and returning it to Venga Global's exhibitor booth on floor L2 of the Pan Pacific Hotel. Attendees can find the form in their giveaway bags, which will be given out at registration, and at Venga Global's exhibitor booth.
These event sponsors are adding a rich and exciting element to the event, which will also include keynote presentations from Jim Edmunds, CEO and Founder of Ingeniux; Rebekah Cancino, Content Strategy and UX Lead at Onward; and Scott Hunter, Partner, Director, and Program Manager of .NET at Microsoft.
About Primacy
In a world where data, technology and ideas combine to form new opportunities every day, Primacy is the digital-first agency devoted to helping clients bring 'what's next' to the business at hand. We are experts in creating experiences that are differentiating, purposeful and connect brands to their audience in innovative ways, deliver long term value and results. With cross-industry expertise, Primacy works with clients in verticals including consumer, financial services, healthcare, manufacturing and higher education to solve their marketing, branding and technology challenges. Headquartered in Farmington, CT, Primacy has offices in New York, Boston, and West Palm. To find out more, visit www.theprimacy.com
About Venga Global
Forged in the software industry as a part of PeopleSoft and then Oracle, Venga Global has been developing language translation and localization best practices for organizations expanding globally. Venga provides services and technology that reduce the cost, time, and energy to produce multilingual content. Including website translation, video voice over, multilingual SEO, internationalization, web / mobile app localization, and global branding, Venga's service offering will help you streamline your international efforts with a focus on quality. Visit www.vengaglobal.com/ingeniux.
About the Ingeniux User Conference
The Ingeniux User Conference is an annual gathering of Ingeniux customers and partners. Programming includes presentations, panels, and workshops designed to give attendees the tools and knowledge they need to deliver outstanding web experiences. The conference features insightful presentations from leaders in the industry, enlightening breakout sessions from Ingeniux experts, and networking events. Conference add-ons include three training courses and one Friday workshop.
For more details visit www.ingeniux.com/userconference
About Ingeniux
Ingeniux is a leading provider of intelligent content management and digital experience software. Ingeniux technology empowers organizations with a .NET platform for websites, portals, communities, and structured content delivery. Available as a hosted service (SaaS) or an on-premise application.
Ingeniux software is used by hundreds of leading brands, universities, trade associations, and government agencies globally.
Learn more at www.ingeniux.com