Ingeniux Named to KMWorld Top 100 Companies in Knowledge Management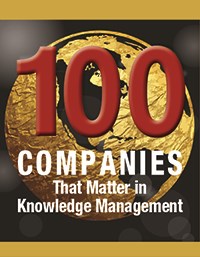 Seattle, WA – Ingeniux Corporation, a leading intelligent content management and web experience software company, has been named to KMWorld Magazine's list of the top 100 companies in knowledge management.
KMWorld has been putting together this influential list since 2000. Today, inclusion in the list is the most prestigious award in the Knowledge Management industry. This is the second time that Ingeniux has received this recognition.
Ingeniux CMS is a modern digital content management system that delivers content for websites, apps, and portals. Ingeniux provides value added solutions for customer portals and technical publishing.
"Those designated to this year's list of KMWorld 100 Companies That Matter in Knowledge Management run the gamut of capabilities, but share such similar characteristics as innovation, ingenuity, usefulness and resourcefulness. Moreover, the companies on this list create solutions that help their customers turn vast amounts of data into usable knowledge that they can leverage to enhance collaboration, gain insights and achieve their goals." - KMWorld Editor Sandra Haimila
Ingeniux solutions for knowledge management are on the cutting edge of the industry. A unique decoupled architecture and focus on structured "intelligent" content allows Ingeniux users to work outside the "black box" of traditional CMS solutions to deliver on the needs of marketing, technical content publishing, and customer support – without the overhead, complexity, and cost of traditional content management systems.
Jim Edmunds, Ingeniux CEO and Founder contributed a "View from the Top" article to KMWorld Magazine. In it he reflects on the nomination and Ingeniux's position in the knowledge management industry.
"Today's marketers want to tap into the treasure trove of technical content. Likewise, technical content managers embrace the larger web community and technical support lives on the frontier of digital marketing. Your content management platform is the digital hub that bridges these silos and brings true efficiency and scalability to enterprise knowledge." – Ingeniux CEO and Founder Jim Edmunds
Read the full View from the Top article here.
About KMWorld

KMWorld (www.kmworld.com) is the leading information provider serving the Knowledge Management systems market and covers the latest in Content, Document and Knowledge Management, informing more than 21,000 subscribers about the components and processes - and subsequent success stories - that together offer solutions for improving business performance.
KMWorld is a publishing unit of Information Today, Inc. (www.infotoday.com)
About Ingeniux
Ingeniux is a leading provider of intelligent content management and digital experience software. Ingeniux technology empowers organizations with a .NET platform for websites, portals, communities, and structured content delivery. Available as a hosted service (SaaS) or an on-premise application.
Ingeniux software is used by hundreds of leading brands, universities, trade associations, and government agencies globally.
Learn more at www.ingeniux.com