Ingeniux Named to EContent Magazine's List of Top 100 Companies in Digital Content 2018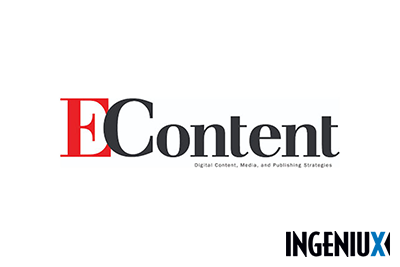 Press Release
|
11.5.2018
Seattle, WA | Ingeniux Corporation, a leading provider of content management and portal software, has been named to EContent Magazine's list of the Top 100 Companies in Digital Content 2018.
EContent Magazine compiles this exclusive list of top digital content companies annually. The list recognizes companies that reflect emerging trends and innovative technologies that are advancing the digital content industry today.
Theresa Cramer, Editor at EContent Magazine, congratulated the winners this year, saying, "We have a great group of companies that have helped build the foundation for content on the web, as well as emerging stars on the cutting edge, showing us all what's possible."
"At Ingeniux, we have architected a digital content platform that is both innovative and unique in addressing the needs for intelligent content creation and agile content deployment" said Jim Edmunds, CEO of Ingeniux. "We're honored that EContent Magazine has recognized the platform, once again, by putting Ingeniux on their annual list of top digital content companies."
Ingeniux is a truly agile digital experience management solution. With the platform, users can manage the next generation of websites, portals, and applications with full support for headless, dynamic, and decoupled content delivery. Most platforms only support one content delivery model, locking brands and developers into a single approach for supporting digital projects. Ingeniux provides a unified platform that allows brands and organizations to deliver content in the right format for each touch point – from responsive websites, to secure portals, to web applications.
About EContent Magazine
EContent is a leading authority on the businesses of digital publishing, media, and marketing, targeting executives and decision-makers in these fast-changing markets. By covering the latest tools, strategies, and thought-leaders in the digital content ecosystem, EContent magazine and EContentmag.com keep professionals ahead of the curve in order to maximize their investment in digital content strategies while building sustainable, profitable business models. Visit them at: http://econtentmag.com/
About Ingeniux
Ingeniux is a leading provider of intelligent content management and digital experience software. Ingeniux technology empowers organizations with a .NET platform for websites, portals, communities, and structured content delivery. Available as a hosted service (SaaS) or an on-premise application.
Ingeniux software is used by hundreds of leading brands, universities, trade associations, and government agencies globally.
Learn more at www.ingeniux.com