Ingeniux Exhibiting at Converge 2017, Focusing on Digital Marketing Solutions for Higher Education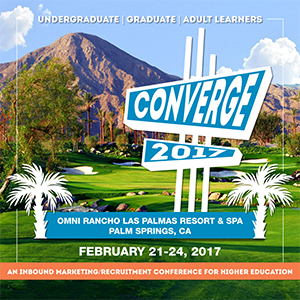 Seattle, Wa - Ingeniux Corporation, a leading intelligent content management and digital experience software company, will be attending and exhibiting at Converge 2017, an inbound marketing conference for higher education hosted by Converge Consulting.
Ingeniux will highlight how their web experience management and collaboration solutions help higher education institutions market to prospective students, foster engagement within the campus community, and maintain important bonds with alumni and donors.
At the event Ingeniux will showcase the latest version of their CMS software, Ingeniux CMS Version 10. Version 10 provides a beautiful, intuitive user experience and new capabilities for managing digital content and assets.
"The higher education web is one of the most challenging and rewarding areas in digital experience management. Ingeniux is proud to have worked with so many colleges and universities over the last 16 years to deliver new technologies and solutions that meet the unique needs of the industry. In the last few years we've seen a dramatic expansion in the higher education digital landscape, including a greater focus on digital marketing and community engagement. The Ingeniux suite of solutions for higher education has evolved along with the industry, and we look forward to showcasing our solutions at Converge 2017." - Jim Edmunds, Ingeniux CEO and Founder
Conference attendees can find out more about Ingeniux and receive some free giveaways by visiting the Ingeniux exhibitor table, located near the entrance of Las Palmas C, in the Exhibitor Hall at Converge 2017.
About Ingeniux
Ingeniux is a leading provider of intelligent content management and digital experience software. Ingeniux technology empowers organizations with a .NET platform for websites, portals, communities, and structured content delivery. Available as a hosted service (SaaS) or an on-premise application.
Ingeniux software is used by hundreds of leading brands, universities, trade associations, and government agencies globally.
Learn more at www.ingeniux.com