Ingeniux CMS Announced as KMWorld Trend-Setting Product for Second Consecutive Year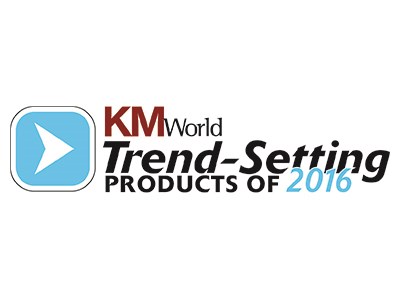 Press Release
|
9.19.2016
Seattle, WA - Ingeniux Corporation, a leading intelligent content management and web experience software company, has been named a KMWorld Trend-Setting Product of 2016. This is the second year in a row that Ingeniux has received this recognition from KMWorld.
The list of trend-setting products is compiled through consultation and collaboration with a panel of judges including editorial colleagues, market and technology analysts, KM theoreticians, practitioners, customers, and a select group of savvy users who work in a variety of disciplines.
KMWorld Editor Sandra Haimila says, "Each year we look for software products that break new territory in helping organizations achieve their knowledge management goals. These products are designed, developed and perfectly timed to fill a niche in the marketplace before users are even aware that such functionality and flexibility have been missing. Designated as the KMWorld Trend-Setting Products of 2016, these offerings hold the promise for the marketplace."
Haimila adds, "Our judging panel agrees that such characteristics as usefulness, scalability and level of innovation are among the most valuable components that we consider when we annually select the KMWorld Trend-Setting Products. And the panel believes that timing is key. Too late in the market and competitors already have a foothold. Too early and customers are nowhere to be found."
Ingeniux CMS is the smart choice for managing modern websites, mobile, unified customer support portals, employee intranets, extranets, and knowledge management solutions. It web-enables technical content delivery for DITA and other formats. Ingeniux unlocks content from its silos, creating agile content for a multi-channel world. All of this at a fraction of the cost and complexity of other solutions.
"The web has changed and web content management needs to change too," Said Jim Edmunds, Ingeniux President and CEO. "Traditional CMS tools address marketing, but cannot manage technical content or customer service. We are filling gap in the market for organizations who need to orchestrate the entire customer experience, across any device, application, or website."
With the launch of Ingeniux 10 and a new unified experience, Ingeniux provides key features such as intelligent XML authoring for multi-channel publishing, personalization and content marketing, digital asset management, enterprise search, multi-lingual, taxonomy, and adaptive and responsive mobile delivery. Ingeniux Cartella adds secure intranets, extranets, communities, and unified support portals.
About KMWorld
KMWorld (www.kmworld.com) is the leading information provider serving the Knowledge Management systems market and covers the latest in Content, Document and Knowledge Management, informing more than 30,000 subscribers about the components and processes - and subsequent success stories - that together offer solutions for improving business performance. KMWorld is a publishing unit of Information Today, Inc. (www.infotoday.com)
About Ingeniux
Ingeniux is a leading provider of intelligent content management and digital experience software. Ingeniux technology empowers organizations with a .NET platform for websites, portals, communities, and structured content delivery. Available as a hosted service (SaaS) or an on-premise application.
Ingeniux software is used by hundreds of leading brands, universities, trade associations, and government agencies globally.
Learn more at www.ingeniux.com