Ingeniux CMS 10.3 Rolls Out Over 260 Updates, Including Dynamic Content Management Features and Built-in Azure Application Insights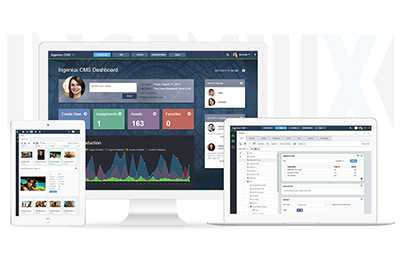 Press Release
|
6.24.2019
Seattle, WA | Ingeniux Corporation, a leading provider of web content management and portal software announces the latest release of its web content management system, Ingeniux CMS 10.3, rolling out over 260 updates in total.
The release of Ingeniux CMS 10.3 introduces powerful content management features, including a new redlining feature to track and compare changes within In-Context Editing, support for remote SFTP management in the Ingeniux Digital Asset Manager, and improved URL lifecycle management for assets. The latest release also updates the User & Group Manager with an expanded automated user import and provides additional preference settings for users in the User Profile.
Azure Application Insights is built into Ingeniux CMS 10.3, meaning Ingeniux CMS administrators and IT professionals now have enhanced application performance monitoring capabilities for their CMS software installations.
Ingeniux CMS 10.3 Overview:
Content management features:
Compare differences in In-Context Editing
Digital asset management features:
Support for remote SFTP management
Improved URL lifecycle management features for digital assets
Site administrative features:
User & Group Manager updated to provide expanded automated user import
User Profile updated with additional preference settings
Azure Application Insights
Azure Application Insights now built into Ingeniux CMS
About Ingeniux
Ingeniux is a leading provider of intelligent content management and digital experience software. Ingeniux technology empowers organizations with a .NET platform for websites, portals, communities, and structured content delivery. Available as a hosted service (SaaS) or an on-premise application.
Ingeniux software is used by hundreds of leading brands, universities, trade associations, and government agencies globally.
Learn more at www.ingeniux.com