Ingeniux CMS 10 Introduces Digital Content Management for Websites, Portals, and Apps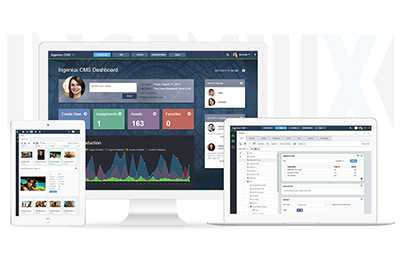 Press Release
|
1.11.2018
Seattle, WA | Ingeniux Corporation, the leading agile web content management and delivery platform, has announced the release of Ingeniux CMS 10. The latest version of the Ingeniux content management system delivers a modern platform for managing the next generation of websites, portals, and applications - with full support for headless, dynamic, and decoupled content delivery.
Most CMS applications only support one content delivery model, locking brands and developers into a single approach for supporting digital projects. Ingeniux CMS 10 provides a unified platform that allows brands and organizations to deliver content in the right format for each touch point, from responsive websites, to secure portals, to web applications.
Beyond the freedom to deploy content across channels and delivery models, Ingeniux also supports intelligent content designed to optimize the digital experience for each channel. Ingeniux CMS 10 uses NoSQL database technology with native support for JSON and XML, ensuring that content may be rendered in virtually any format and leverages a full spectrum of meta data and intelligent content structure for reuse.
"Ingeniux CMS Version 10 provides our customers with the tools and functionality they need to manage and deliver dynamic, targeted content to diverse audiences, setting Ingeniux apart from competitors as a truly agile content management solution," said CEO and Founder, Jim Edmunds.
CMS 10 Highlights:
New User Interface: A completely redesigned user interface and client experience combines ease of use with a robust feature set, and brings a new level of productivity to managing and publishing web content. The new CMS client streamlines key tasks such as editing content, managing assets, or governing content via workflow reviews.
Digital Asset Management: The new digital asset management system (DAM) supports end-to-end management of images, documents, code, video, and other media in the CMS. Ingeniux provides an integrated approach for asset storage, management, and multi-channel delivery with full versioning, deployment control, meta data management, and image editing.
Visual Template and Page Building: CMS 10 offers template technology with visual page building based on leading responsive design frameworks such as Bootstrap and Foundation. Page Builder allows content contributors to modify or create new layouts without any coding or development required. By simply dragging and dropping widgets onto the page a user can easily layout and update a new template. Because Page Builder templates are 100% responsive they work automatically on desktop PCs, Smart Phones, and Tablet devices.
Powerful, Developer Friendly Platform: Built on the Microsoft.NET platform, Ingeniux CMS is fast, powerful, and easy to understand. Developers can take advantage of new and updated technology in CMS 10, including MVC 5, .NET 4.5, a new ASP.NET API and remote web services API for any platform or server to connect to Ingeniux CMS using SOAP or REST.
Cloud-Ready: Ingeniux is a leading provider of cloud-based content management solutions. With ten plus years of Software-as-a-Service experience, a global network, and 24/7 support, Ingeniux provides digital content management built for the cloud.
Availability
Ingeniux CMS 10 is available now. Please visit www.Ingeniux.com for more information on how to get started. For existing customers, contact support or your account manager to gain access to the latest release. For press-related inquiries, email info@ingeniux.com.
About Ingeniux
Ingeniux is a leading provider of intelligent content management and digital experience software. Ingeniux technology empowers organizations with a .NET platform for websites, portals, communities, and structured content delivery. Available as a hosted service (SaaS) or an on-premise application.
Ingeniux software is used by hundreds of leading brands, universities, trade associations, and government agencies globally.
Learn more at www.ingeniux.com