Ingeniux at CMS DITA North America, Exploring the Unified Portal Solution and the Future of Tech Docs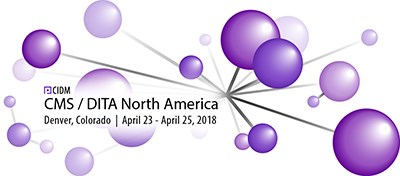 Press Release
|
3.22.2018
Seattle, WA | Ingeniux Corporation, a leading provider of web content management and collaboration software, will exhibit and present a session at CMS DITA North America in Denver, CO April 23-25, 2018.
Jim Edmunds, CEO and Andrew Douglas, Regional Sales Manager at Ingeniux will present a session Monday, April 23rd at 10:00 AM in Track 4. The presentation, Unified Portals: The Future Home of Tech Docs, will explore how organizations can deliver an enhanced customer experience and gain a competitive advantage with a unified portal solution. The session will have a special focus on technical documentation and DITA, which are often at the heart of unified portal projects.
In addition to presenting a session Ingeniux will exhibit at the conference, showing their intelligent web content management and portal solutions.
About CMS DITA North America
Join the Center for Information-Development Management for the 20th annual Content Management Strategies/DITA North America Conference in Denver, Colorado on April 23-25 2018. This year's conference will show case 80+ talks across 4 tracks and will include both DITA and non-DITA content. The conference will also feature interaction discussions, exhibitors, networking events, and a keynote.
Learn something new. Share your ideas. Meet publications professionals who have implemented content management strategies in both DITA and Non-DITA environments. Hear from key tool developers who are actively supporting the information-development community. View the conference agenda and find more information at
About Ingeniux
Ingeniux is a leading provider of intelligent content management and digital experience software. Ingeniux technology empowers organizations with a .NET platform for websites, portals, communities, and structured content delivery. Available as a hosted service (SaaS) or an on-premise application.
Ingeniux software is used by hundreds of leading brands, universities, trade associations, and government agencies globally.
Learn more at www.ingeniux.com