Ingeniux Named to List of Top 100 Companies in Digital Content 2016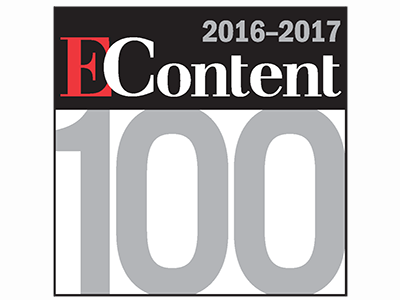 Press Release
|
11.2.2016
Seattle, WA – Ingeniux Corporation, a leading intelligent content management and digital experience software company was named to the EContent list of Top 100 Companies in the Digital Content Industry.
EContent Magazine compiles the list of top digital content companies annually. Selection is based on emerging trends, innovative technologies, and advances in the digital content industry.
Editor Theresa Cramer said, "As always, the competition for EContent 100 was fierce. As creating, delivering, and monetizing digital content has become more complex so has the judging process for this annual competition. The companies that were selected for this year's list represent the cutting edge of what it takes to deliver delightful, personalized content experiences. Congratulations to all the companies! The EContent judging team is looking forward to seeing what you do over the next year."
The announcement comes just as Ingeniux is set to release the latest version of their CMS software, Ingeniux CMS Version 10.
With the launch of Ingeniux 10 and a new unified experience, Ingeniux provides key features such as intelligent XML authoring for multi-channel publishing, personalization and content marketing, digital asset management, enterprise search, multi-lingual content management, taxonomy, and adaptive and responsive mobile delivery. The Ingeniux Cartella Portal adds secure intranets, extranets, communities, and unified support portals.
Jim Edmunds, CEO and Founder of Ingeniux, contributed an extended feature to EContent Magazine called "View from the Top," in which he talked about Ingeniux's inclusion to the list and its place in the world of digital content management.
"Almost 20 years into the content management revolution, our industry is facing big challenges. It's time to break down the silos," said Jim. "Our vision for the future of content management is much like yours: One platform to create, manage and deliver your content across the entire customer experience."
The full EContent 100 list can be seen at www.econtentmag.com and will also be featured in the December 2016 issue of EContent Magazine.
>> Read the Ingeniux "View from the Top"
>> Learn more about Ingeniux CMS
About EContent Magazine
EContent is a leading authority on the businesses of digital publishing, media, and marketing, targeting executives and decision-makers in these fast-changing markets. By covering the latest tools, strategies, and thought-leaders in the digital content ecosystem, EContent magazine and EContentmag.com keep professionals ahead of the curve in order to maximize their investment in digital content strategies while building sustainable, profitable business models. Visit them at: http://econtentmag.com/
About Ingeniux
Ingeniux is a leading provider of intelligent content management and digital experience software. Ingeniux technology empowers organizations with a .NET platform for websites, portals, communities, and structured content delivery. Available as a hosted service (SaaS) or an on-premise application.
Ingeniux software is used by hundreds of leading brands, universities, trade associations, and government agencies globally.
Learn more at www.ingeniux.com